Annual Awardee Application
Every year, the SIPS Fund awards tens of thousands of dollars to students and alumni ventures that are in pursuit of social impact and community service. These projects are based around the world in a diverse range of sectors. Applications for Annual Awardee projects are open! Applications will be reviewed on a rolling basis as the priority deadline has passed. Follow us on social media and subscribe to our newsletter to stay up to date with additional information regarding this opportunity (News page).
Eligibility
A current undergraduate student at Georgetown University OR a Georgetown University undergraduate alumnus/alumna who graduated in or after 2001. (Note: Projects run by graduate students who are partnered with an undergraduate student or undergraduate alumnus/alumna where the undergraduate student/alumnus/alumna is the primary touch point are eligible for funding)
Pursuing a not-for-profit project that relates to social innovation, public service, and/or environmental sustainability.
Ideal Project
An ideal SIPS Project fulfills the following criteria:
Impact on the student
Impact on the community
Sustainability
Innovation
For a more detailed understanding of our criteria, please view our project criteria rubric.
Awardee Expectations
Be willing and able to participate in all SIPS Programming! Throughout the year, we will hold periodic check-in meetings, workshops, and trainings to ensure your success and safety.
Be responsive in communication, and reach our proactively to address any project issues, with your Project Manager and the Managing Director.
Share project development updates with your Project Manager throughout the process and, when the time comes designing metrics for success for post-project evaluations.
Document your project by writing blogs or recording vlogs for SIPS throughout the lead-up, execution, and post-implementation stages of your project. We want to help you show the world how you took your project from idea to reality!
Share reflections and evaluations of how the project went relative to your expectations while providing honest feedback to the SIPS Executive Committee.
Upon your return, present your project and realist in an on-campus, symposium for the SIPS Board, our partners and fellow students

Interested in applying for an award? Here's how!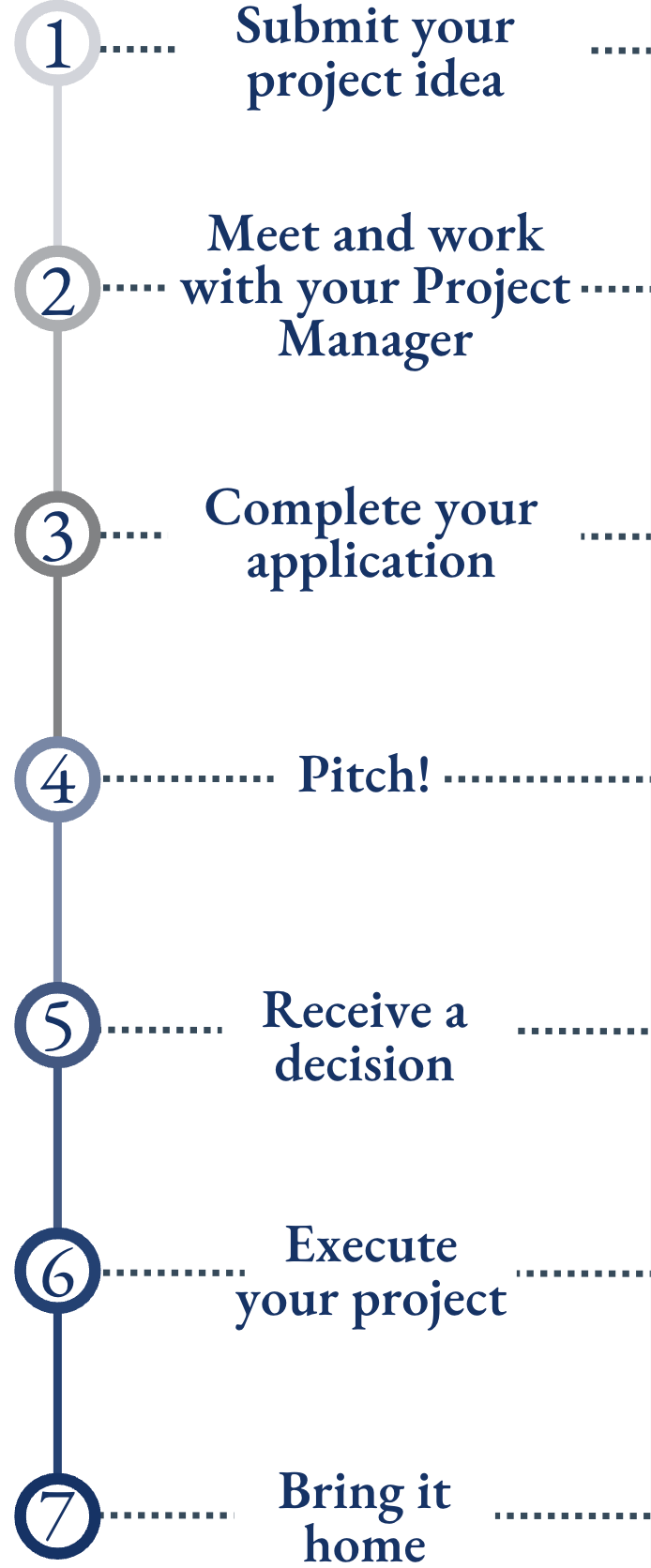 Visit our past awardees page for examples of previous projects and experiences we have funded. If you have any questions contact sipsfund@georgetown.edu.