Gwendolyn Mikell Award for Womxn's Empowerment
About
The Gwendolyn Mikell Award for Womxn's Empowerment is a collaborative effort between the SIPS Fund and Georgetown University's BRAVE Summit to award an undergraduate student or alumni for their contributions to womxn's empowerment. This partnership and award seek to address the inequities and barriers that womxn continue to face and equip them with the tools necessary to succeed in their endeavors.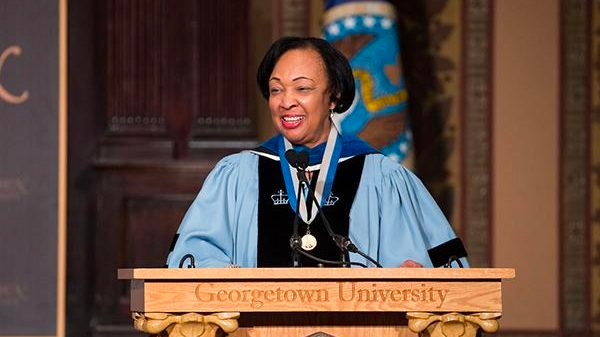 Gwendolyn Mikell was the first tenured (professor) Black woman at Georgetown. She taught at Georgetown for 47 years, having recently retired in August 2021. In her time at Georgetown, she chaired the Department of Sociology and Anthropology from 1992-2007 and directed the African Studies Program from 1996-2007. She has also served as a member of the Council on Foreign Relations, President of the African Studies Association, and Jennings-Randolph Fellow at the United States Institute of Peace (USIP). Gwendolyn Mikell is a trailblazer and inspiration for Georgetown students and faculty, and we are proud to honor her legacy through this award.
Previous Awardees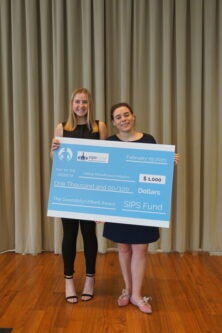 2020: HILLTOP MICROFINANCE INITIATIVE
The 2020 winner of the Gwendolyn Michael Award for Women's Empowerment, HMFI is a Georgetown campus group which aims to empower individuals by promoting financial independence and stimulating economic growth in the DC area. For this project, they designed a program or economic education specifically for women in the D.C. area.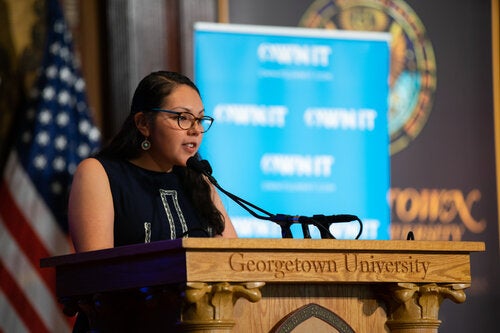 2019: GHIPSEL CIBRIAN
Ghipsel Cibrian, a 2016 Georgetown graduate, currently works with the Jesuit Volunteer Corps; she was the 2019 recipient of the Gwendolyn Mikell Award for Women's Empowerment. Her Sonqoymi Wiñan project is an adjunct of the Ocongate Summer Camp at the Saint Paul de Ocongate Parish in Ocongate Perú. In completing her project, she will work with the Jesuits to channel resources in strengthening the math and communication skills of rural Peruvian girls as well as offer career resources to them during the four weeks of summer camp.
2018: RACHEL MUCHA
Rachel Mucha, the recipient of the inaugural Gwendolyn Mikell Award for Women's Empowerment, used her award to work with female farmers in the Indian states of Assam, Telangana, and Maharashtra. A Georgetown graduate of the class of 2018, she had the opportunity to attend an agricultural data conference in Hyderabad, Telangana. Rachel's goal was to assist female farmers in better understanding how microfinance and business training programs have empowered them and improved their financial standing